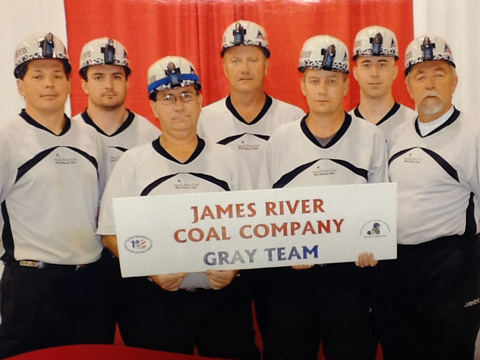 James River Coal Co. Gray Team, Winner - 2012 WKMI Safety Days Contest
The Western Kentucky Mining Institute has announced that the 2014 Safety Days Contest will be held on May 21-22, at the Hopkins County Fairgounds/Ballard Convention Center in Madisonville, Kentucky. Miners from across the region will show up to compete in Mine Rescue, First Aid, Benchman, and Pre-Shift events, while at the same time, sharpen the skills that would be required in the event of an actual mining emergency situation.
Mine Rescue Contests are held throughout mining areas nationwide. Not only coal mines, but Metal/Non-Metal Mines have mine rescue teams ready to respond to any problem that may arise in the mining environment.
A Mine Rescue Contest is held so those teams can practice the skills necessary to properly respond to any situation where the services of a mine rescue may be needed. During the working of a problem, the rescue team will encounter situations similar to those found in underground mining. Each team will have to explore the mine, take a gas check, establish ventilation as necessary and account for all missing personnel, while still providing for their own safety under adverse conditions.
Additionally, the contest gives a team's Benchman the opportunity to exhibit their skills. This part of the contest is generally held behind closed doors and is usually not seen by the public. However, this individual is the person who, through their training and dedication, insures that the equipment worn by the Mine Rescue Team operates properly and safely. Without a skilled Benchman, a Mine Rescue Team is not complete.
Another contest that has been added just a few years ago that is beginning to draw a lot of attention during the Safety Days is a Pre-shift Contest. This Contest is for Mine Examiner(s) to improve their skills inspecting the mines. The Examiner is a miner who is responsible to make sure that the mine is free of dangers such as methane gas, carbon monoxide gas, low oxygen, unsafe roof conditions, water in the mines, and other things that needs to be corrected. His/her job is done prior to the crew (shift) of workers entering the mine. This is where the word pre-shift originates.
The contest is only one part of the teams many hours of practice and study that takes place beforehand. Rescue teams are composed of mine personnel from various positions at a given company. In their day to day jobs they carry out different assignments, however, team members—past and present—are an elite group of miners who all have a common focus as a mine rescue team: the safety and well-being of their fellow miners. Their participation in this and other contests allows them to be ready to respond wherever the need arises.
APC is proud to be a sponsor of this event, and we are now accepting advertisement submissions for the Official 2014 Safety Days Contest Program. If you or your company would like to purchase a spot in this year's program you may fill out the ad submission form by clicking here, or by emailing Cristy at cristy@amprintco.com, or by calling APC at (800) 590-5360.
Questions concerning the event should be directed to Polly Wilson at (270) 821-4180, Ext. 226 between the hours of 8a & 4p (CST). The 2014 WKMI Safety Days Contest is open to the public.